Corcoran Addition | Kitchen and Bath Remodel
This project incorporates remodeling a kitchen, adding/remodeling a bathroom, adding new space, a crawl space, as well as some exterior updating and improvements. It takes place in Corcoran, a Northwest Twin Cities suburb just west of Maple Grove and Plymouth. Read a homeowner's summary here.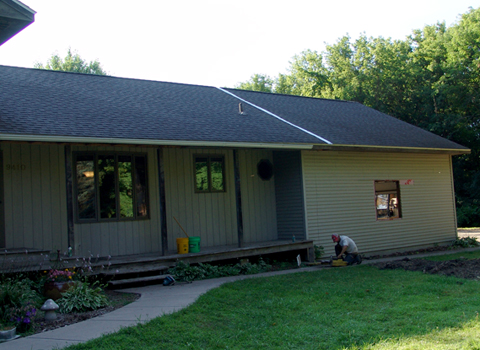 We'll cover the project as it goes and try to keep it interesting and informative. We start with demolition and some of the preparation that good contractors employ when starting a project like this.
The porch you see will be re-built, the siding replaced, and the garage removed as well as a 4 season porch and other structure in back.
---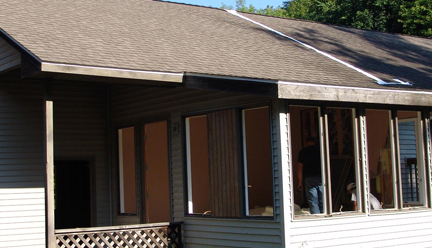 Notice the removal of windows, doors, and any glass or other items that can present a hazard during and after the demolition – best practice for any demo job where people live and work, especially when there are children around.
---
Of note in this image is placement of the cuts for separation of the demolished portion: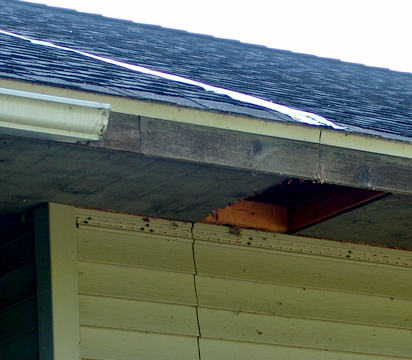 siding
wall sheeting
gutter
shingles
roof plywood
soffit
As well as cuts you don't see that remove interior ties from the garage to house, including termination of any plumbing supply lines or vents and any wiring. Notice the 'very sticky' tape covering the shingle cut – a nice detail against water damage should the weather turn on us.
A brief video of the roof cut being made – getting through shingle, shingle felt, and the plywood or oriented strand board (OSB).

NEXT UP: DEMOLITION!
---